Lupus vulgaris in an 11-year-old girl.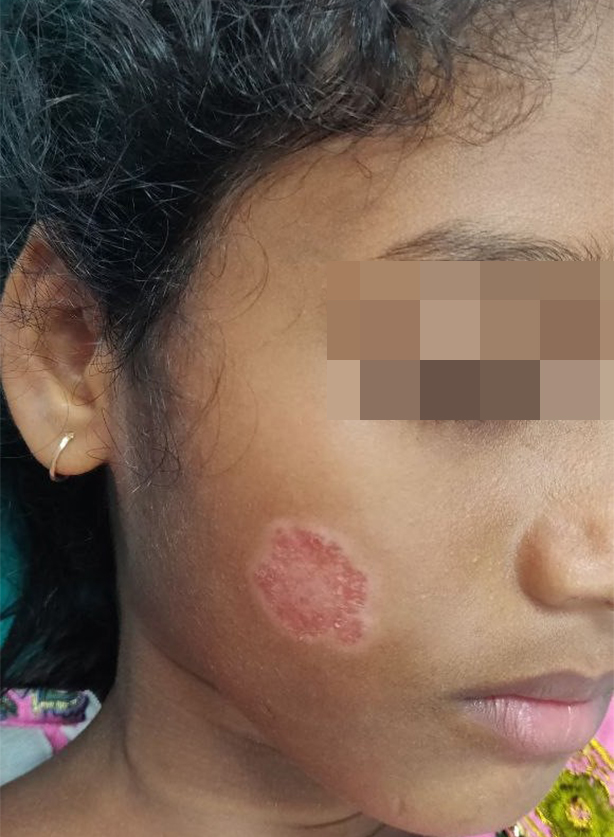 Downloads
How to Cite
Paul N.A., Bhat M.R., Dandekar S., Fernandes M., D'Souza M. 2022. Lupus vulgaris in an 11-year-old girl. Eur. J. Pediat. Dermatol. 32 (4):236-8. 10.26326/2281-9649.32.4.2373.
pp. 236-8
Abstract
Tuberculosis cutis luposa, commonly known as lupus vulgaris (LV), is a rare disease. It is a paucibacillary variant of tuberculosis that progresses slowly. In India, cutaneous tuberculosis accounts for 1.5% of all cases of extrapulmonary tuberculosis (6). LV can be exogenous in origin through direct inoculation or endogenous through hematogenous or lymphatic dissemination from an underlying infectious focus, and occurs in a sensitized host with moderate to high immunity to Mycobacterium tuberculosis (6). In exogenously transmitted cases, such as the present one, the tests are usually negative. Histopathology is often the only confirmatory method […].
Keywords
lupus vulgaris, tuberculosis, children