Acrodermatitis enteropathica in Pakistan.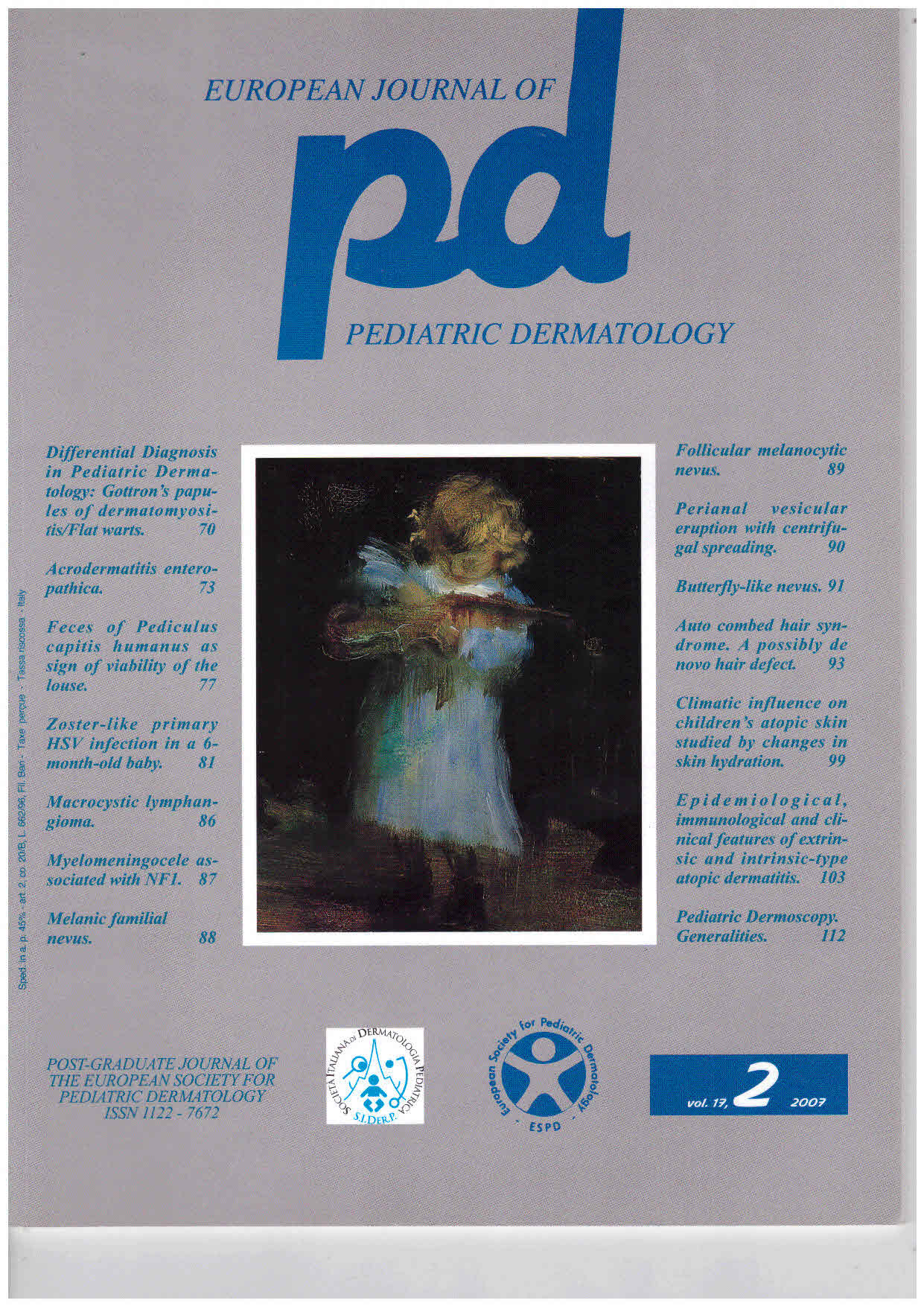 Downloads
How to Cite
Samdani A.J. 2007. Acrodermatitis enteropathica in Pakistan. Eur. J. Pediat. Dermatol. 17 (2):73-76.
pp. 73-76
Abstract
Acrodermatitis enteropathica is an inborn error of zinc metabolism which is inherited as an autosomal recessive disorder. It is characterized by periorificial -oral, anal and genital-, acral dermatitis, anorexia, diarrhea, behavioral/mental changes, neurological disturbances, alopecia and secondary bacterial/fungal infections.The aim of this study was to determine the pattern frequency of these abnormalities in children with acrodermatitis enteropathica. This study comprised 16 patients attending the Dermatology Department at Jinnah Post Graduate Medical Centre, Karachi during the last twelve months. Age, sex, nationality, age at the onset of first symptoms, height, weight and family history were recorded. Dermatitis and diarrhea were found in all 16 patients i.e. 100%, 11 (69%) patients had bacterial infections, 15 (94%) cases had Candida infection, 4 (25%) had dermatophyte infections, 4 (25%) had alopecia, behavior and mental changes were seen in 3 (18.75%) patients and 3 children (18.75%) had nail dystrophies. Eye changes were observed in 2 (12.5%) patients. In all cases, low serum zinc levels were documented, 8 children had low alkaline phosphatase while 7 were found to be anemic. Early diagnosis of this condition results in complete healing and reversal of symptoms. However, an early diagnosis and management of this condition require teamwork and thus consultation with pediatricians, dermatologists, pediatric gastroenterologists and nutritionists may be necessary.
Keywords
Acrodermatitis enteropathica, Zinc deficiency, Dermatitis