Clinical course of granuloma annulare.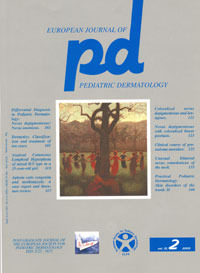 Downloads
How to Cite
Ferrante M.R., Bonifazi E. 2005. Clinical course of granuloma annulare. Eur. J. Pediat. Dermatol. 15 (2):125-32.
pp. 125-132
Abstract
In order to investigate the duration of granuloma annulare (GA) and its responsible factors,we reviewed the clinical records of 190 cases of GA (118 females and 72 males, whose age ranged between 1 and 14 years at the moment of the first examination) seen in the Unit of Pediatric Dermatology of Bari University between 1975 and 2004. All these patients were invited to answer a questionnaire and some of them wer reexamined. According to the clinical records and the responses to the questionnaire, the following parameters were investigated: sex, age at the moment of the first consultation, triggering factors and associated disorders, clinical variants of GA, site of the lesions and family history. We confirmed in our pediatric cases the increased frequence of GA in females(118/190), the more frequent involvement of the dorsal aspect of the foot (66/180 cases) and the more frequent association with insulin dependent diabetes in the localized variant of GA (3/180 cases of insulin dependent diabetes). Moreover, we put in evidence a peak at 3 years in the age of onset of pediatric GA. With regard to the duration of GA and its responsible factors, we established that the average duration of GA in our pediatric population is one year and half. However, we also put in evidence a minority of cases with a longer duration -even more than 20 years-. The latter cases are characterized by a more significant prevalence of females, later age of onset, more widespread lesions and, finally, more frequent autoimmune disorders in the family history.
Keywords
Granuloma, annular, Clinical course, Autoimmunity