Laryngeal involvement in a child with pachyonychia congenita.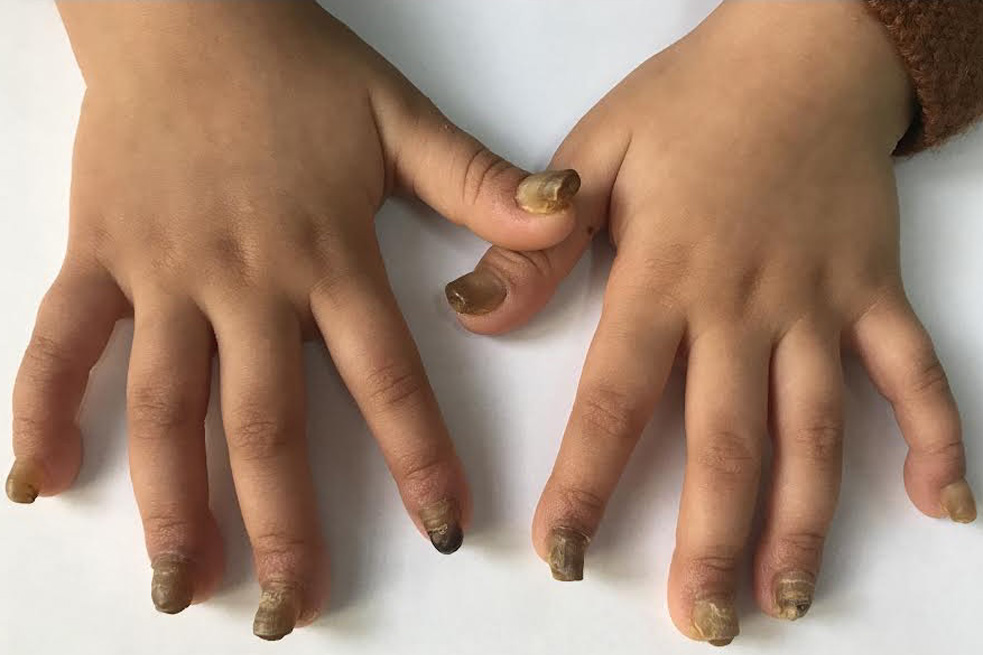 Downloads
How to Cite
Rabba S., Hali F., Dahbi Skalli H., Chiheb S. 2022. Laryngeal involvement in a child with pachyonychia congenita. Eur. J. Pediat. Dermatol. 32 (2):91-4. 10.26326/2281-9649.32.2.2352.
pp. 91-4
Abstract
Pachyonychia congenita (PC) is a rare inherited skin disorder whose most important symptom is the hypertrophic nail dystrophy; PC can also affect the skin, oral mucosa, larynx, hair and teeth. Laryngeal involvement can in extreme cases lead to a life-threatening airway obstruction. A 3-year-old girl was examined in the Dermatology Clinic for nail dystrophy affecting all 20 nails associated with hoarseness and recurrent upper respiratory tract infections. She was treated with oral retinoids, which improved the skin lesions. Laser debulking of the laryngeal mass was programmed to hinder the progression of the laryngeal disease. PC with laryngeal involvement is exceptional. Given the variability of its clinical presentation, the management and treatment of patients with PC and laryngeal involvement is challenging and requires a multidisciplinary approach. The aim of this article is to discuss the various aspects of this rare disease and to emphasize the need for early diagnosis and monitoring in case of laryngeal involvement.
Keywords
pachyonychia congenita, nails, larynx, hoarseness