Vulvar lichen sclerosus in a pediatric population.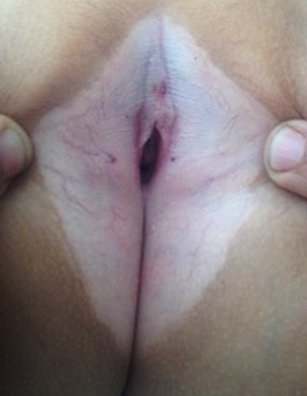 Downloads
How to Cite
Tazi Saoud Z., Hali F., ElFatoiki F.Z., Chiheb S. 2022. Vulvar lichen sclerosus in a pediatric population. Eur. J. Pediat. Dermatol. 32 (1):20-4. 10.26326/2281-9649.32.1.2313.
pp. 20-4
Abstract
Background. Vulvar lichen sclerosus (VLS) is a chronic misdiagnosed inflammatory skin disorder with permanent sequelae. 
Objectives. The aim of this retrospective study was to assess baseline characteristics and identify patterns of clinical presentation and features of lichen sclerosus in a pediatric population to evaluate the importance of early diagnosis, and to estimate treatment efficacy.
Methods. A retrospective study was conducted between January 2013 and December 2020 at Ibn Rochd Hospital Center in Casablanca, collecting all records of patients up to 14 years old followed in outpatient center for VLS. The diagnosis of VLS was clinically based on significant pruritus associated with hypopigmentation and vulvar atrophy. 
Results. A total of 10 patients were selected. The average age of symptom onset was 4.6 years. The average age at diagnosis was 7.1 years. The diagnostic delay was 2,5 years. The main symptom was vulvar pruritus. One patient complained from dysuria and bleeding. One patient reported constipation. Three patients showed no symptoms. Eight patients had atrophic and porcelain-white vulvar discoloration. Telangiectasias were found in four cases and anal involvement in two cases. Extragenital lesions were found in 3 cases. Vulvar architecture was modified in 5 cases (clitoral phimosis, labial resorption or labial adhesions). The hymen was intact in all cases. No histopathological confirmation was necessary. All patients received corticosteroid therapy, but some of them required tacrolimus and/or methotrexate.
Conclusions. Pediatric VLS has a variety of characteristic symptoms and clinical presentations. Delayed diagnosis results in irreversible genital changes that can be prevented with early diagnosis and management.
Keywords
Lichen sclerosus, child, women, vulva, atrophy, sexual abuse