Multiple familial trichoepithelioma.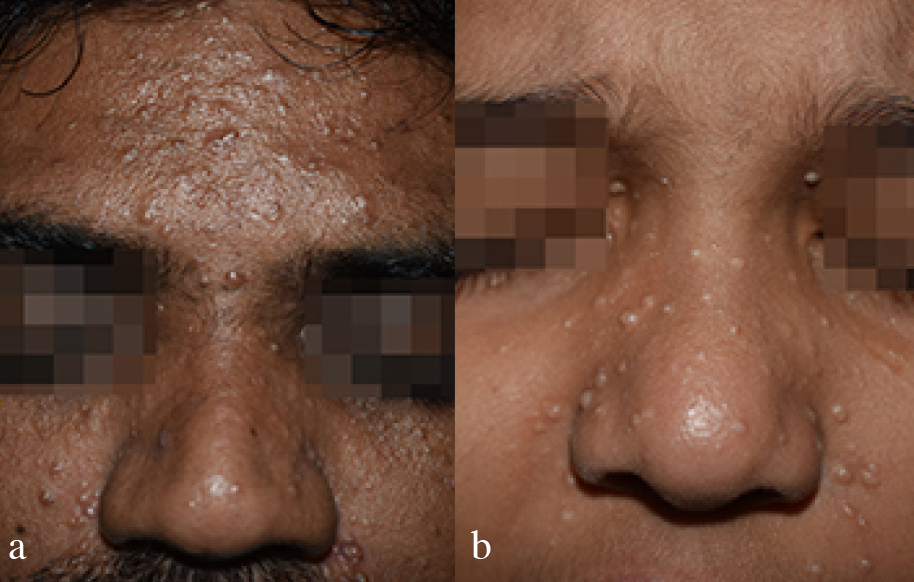 Downloads
How to Cite
Rane M.C., Mahajan S., Dave J. 2022. Multiple familial trichoepithelioma. Eur. J. Pediat. Dermatol. 32 (1):16-9. 10.26326/2281-9649.32.1.2312.
pp. 16-9
Abstract
Multiple familial trichoepithelioma (MFT) also known as Brooke-Fordyce syndrome is a relatively rare, disfiguring, benign adnexal neoplasm diagnosed by centrofacial distribution of papules and nodules, positive family history and related histopathological findings. MFT can rarely undergo malignant transformation. Treatment is mainly for cosmetic concern.
Here we report MFT in a 10 year old female diagnosed on the basis of positive family history, classical clinical lesions, and histopathological findings. The gene responsible for this condition is cylindromatosis gene (CYLD1), which has been mapped on chromosome 16q12-q13. However, no mutations have been detected in CYLD gene analyzed in our patient, which indicates lack of genotype-phenotype correlation in this patient.
Keywords
Hamartoma, epithelioma, family