Congenital tufted angioma.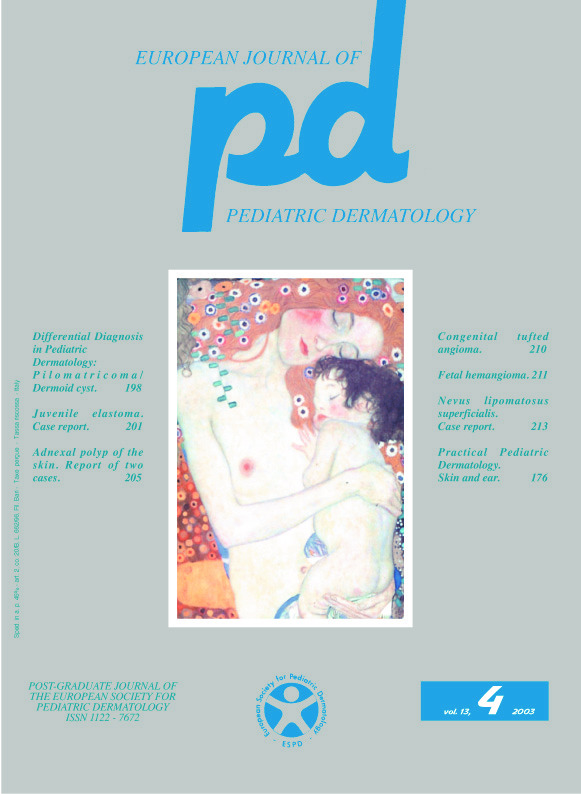 Downloads
How to Cite
Cacciaguerra M.G., Provini A., Pedicelli C., Annessi G., Paradisi M. 2003. Congenital tufted angioma. Eur. J. Pediat. Dermatol. 13 (4): 210.
pp. 210
Abstract
Tufted angioma (1) is a rare, acquired or congenital vascular tumor, first reported by Wilson-Jones e Orkin (3). It belongs to capillary hemangiomas (1). It affects children and adolescents without sex preference. Familial cases were reported. The lesion, which usually affects the neck and the upper part of the trunk, is characterized by marked polymorphism (2), ranging from macules to plaques and nodules. It can grow progressively. In other cases it can persist unchanged or spontaneously regress in years. Kasabach-Merritt syndrome can complicate extensive cases of tufted angioma. In contrast with the variable clinical features, the pathological findings are typical, showing in the dermis a capillary proliferation of endothelial cells and pericytes, which are grouped in roundish lobules. Superimposable findings were reported in the Japanese literature as progressive capillary hemangioma or angioblastoma of Nakagawa. According to the age of the patient and the size of the lesion, numerous treatments such as surgery, cryosurgery, electrocoagulation, dye laser, systemic corticosteroids and interferon were suggested. Such treatments were not consistently successful.