Hypopigmented atopic dermatitis/ Hypopigmented pityriasis versicolor/Vitiligo.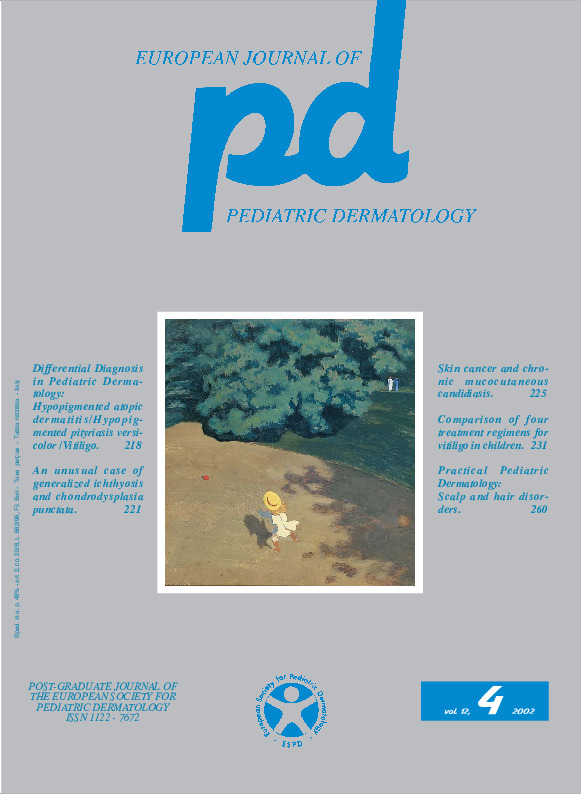 Downloads
How to Cite
Bonifazi E. 2002. Hypopigmented atopic dermatitis/ Hypopigmented pityriasis versicolor/Vitiligo. Eur. J. Pediat. Dermatol. 12 (4):218-19.
pp. 218-219
Abstract
Whatever inflammatory disorder affecting the epidermis and superficial dermis from late spring to early autumn can be responsible for hypopigmented residua. Atopic dermatitis also follows this rule. Being atopic dermatitis the most frequent dermatitis of children, it is even the most frequent cause of hypopigmented residua in childhood. Although present in adults, atopic dermatitis is less frequent in adulthood. At this age pityriasis versicolor (its name is due to the simultaneous presence of hyper- and hypopigmented lesions) is most frequently responsible for hypopigmented lesions. Pityriasis versicolor is a superficial mycosis due to Malassetia furfur. The latter is characterized by a peculiar lipophilia. This is why pityriasis versicolor is rare in children, who present low levels of sebum due to the lack of androgens. The very frequent association between pityriasis versicolor and hypopigmented residua in adults gave rise to the prejudice that all hypopigmented lesions are mycotic. This prejudice is responsible for an excessive and unjustified consumption of antimycotic drugs. The increasing usage of oral antimycotic drugs could be also responsible for systemic side effects. This prejudice should not extend to children, even because pityriasis versicolor is rare in childhood.
Keywords
Hypopigmented atopic dermatitis, Hypopigmented pityriasis versicolor, vitiligo