Neonatal lupus erythematosus in 5 children.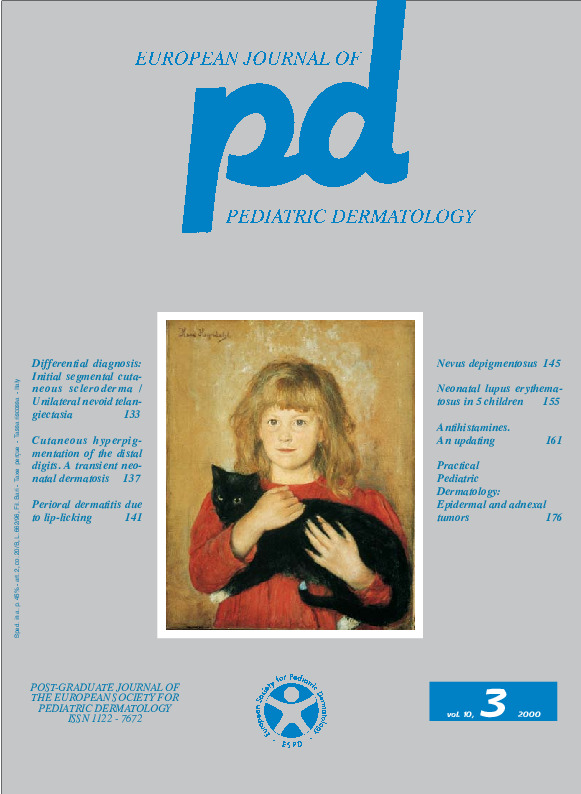 Downloads
How to Cite
Spuls Ph.I., Brakman M., Folkers E., Winterberg D.H., Sillevis Smitt J.H. 2000. Neonatal lupus erythematosus in 5 children. Eur. J. Pediat. Dermatol. 10 (3):155-60.
pp. 155-60
Abstract
Neonatal lupus erythematosus (NLE) is an autoimmune syndrome, showing transient subacute lupus erythematosus (SCLE) and sometimes systemic manifestations like congenital heart block (CHB). NLE occurs in some infants born from mothers with circulating IgG-(auto)-antibodies against extractable nuclear antigens (ENA's) (RNA-protein complexes), usually Ro/SS-A and/or La/SS-B (9).
The mothers may have systemic lupus erythematosus (SLE) (39.5%), Sjögren's syndrome (13.2%) (4) or the Sjögren/lupus erythematosus (LE) overlap syndrome (2). 38% of the women with anti-Ro/SS-A and/or -La/SS-B are asymptomatic. (...).
Keywords
Lupus erythematosus neonatorum