Recurrent pigmented trichoblastoma on nevus sebaceous.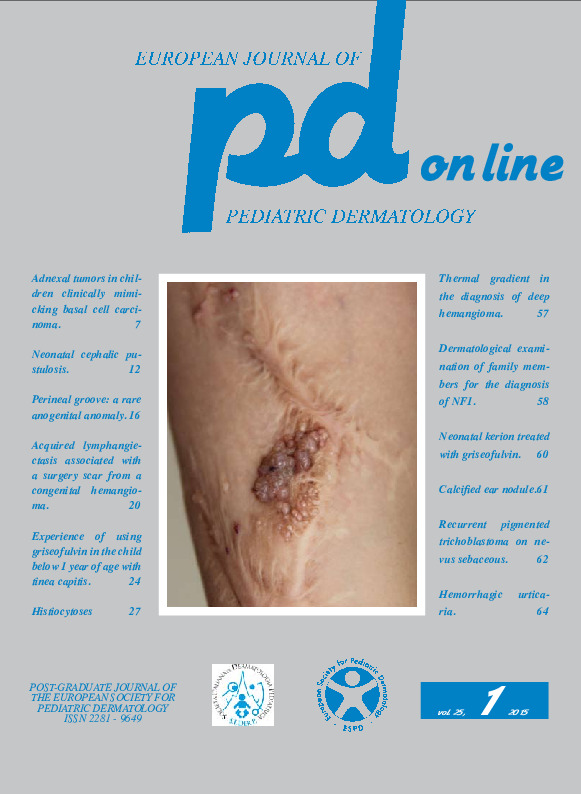 Downloads
How to Cite
Bonifazi E. 2015. Recurrent pigmented trichoblastoma on nevus sebaceous. Eur. J. Pediat. Dermatol. 25 (1):62-3. 10.26326/2281-9649.25.1.1096.
pp. 62-3
Abstract
Nevus sebaceous (NS) is an organoid nevus (7) as it can hold almost all the tissue components of the skin. This is why on sebaceous nevus may arise and sometimes be simultaneously present numerous benign tumors such as trichoblastoma, syringocystadenoma papilliferum etc. (3). The incidence of NS in 11,061 pediatric skin disorders is the 0.16% (1).
The most discussed problem about NS is the possible incidence of malignancies and consequently the usefulness or not of its total excision. In the largest study so far published, that of the Ackerman Academy of Dermatopathology (4), the incidence of tumors was 21.4%, a percentage higher than other series, because as the Authors admit the study included a large proportion of cases as second opinion on the nature of the tumors associated with NS. However, the tumor was benign in 18.9% of cases, and the minority of malignant tumors did not include melanoma. If we consider the relationship between cancer incidence and age, we see that in the first 10 years of life, there were no cases of malignant tumors and only 5 benign neoplasms among 707 cases of NS.
The most common benign neoplasm in this large series is trichoblastoma, unlike other series in which syringocystadenoma papilliferum is the most frequent (2, 5). The differential diagnosis between trichoblastoma and basal cell carcinoma is not easy and is based on the absence of clefts between tumor and stroma, the presence of a fibroblast stroma and mesenchymal papillary bodies in trichoblastoma; there are no immunohistochemistry markers that allow a differentiation between the two tumors (4); this is why in the past many trichoblastomas were diagnosed as basal cell carcinoma, falsely increasing the percentage of malignant transformation of NS.
The differentiation of the rare pigmented trichoblastoma from basal cell carcinoma is even more difficult; on dermoscopy the presence in trichoblastoma of telangiectases and whitish veil can suggest malignancy (6). Our case is also singular also for the recurrence secondary to removal, although rarely already described in the literature.

Keywords
Recurrent trichoblastoma, Nevus sebaceous