Median xipho-umbilical aplasia cutis.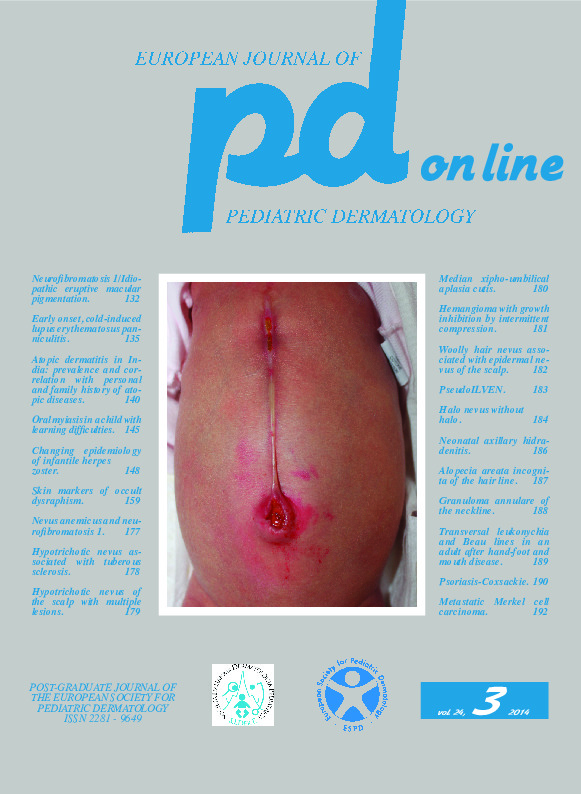 Downloads
How to Cite
Bonifazi E. 2014. Median xipho-umbilical aplasia cutis. Eur. J. Pediat. Dermatol. 24 (3): 180.
pp. 180
Abstract
Case report. A 7-day-old baby girl presented at birth a linear xipho-umbilical lesion. The pregnancy was characterized by threatened abortion in the 4th month. She was born by Cesarean section with gestational age 36 + 5, weighing 2,450 g and was 48 cm long. On the 7th day during the visit the umbilical cord fell, leaving a superficial erosion (Fig. 1). From the breastbone to the navel on the median line there was a linear scar of uneven thickness, in some points surmounted by surface erosion; the scar deformed the navel by pulling it upwards. The physical examination of the other organs was normal and the child was in good general condition. An ultrasound of the abdomen showed no visceral changes. The final diagnosis was median xipho-umbilical aplasia cutis. After 10 days we reviewed the child due to the presence of 3 hemangiomas; the erosions disappeared leaving on the sternum a slightly atrophic, whitish scar (Fig. 2).
Keywords
Xiphoumbilical, Aplasia cutis