Hypotrichotic nevus associated with tuberous sclerosis.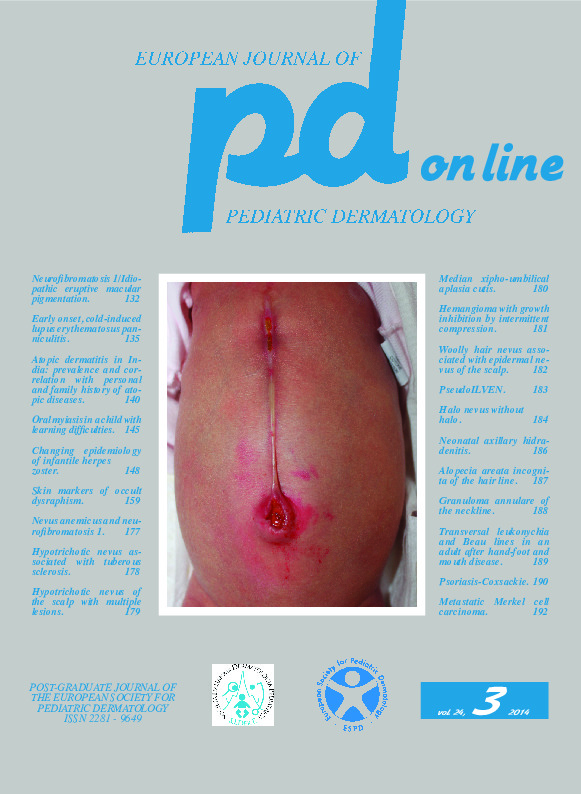 Downloads
How to Cite
Pisani V., Milano A. 2014. Hypotrichotic nevus associated with tuberous sclerosis. Eur. J. Pediat. Dermatol. 24 (3): 178.
pp. 178
Abstract
Case report. A 5 year old child presented on the nose and cheeks about fifty angiofbromas of 0,5-1.5 mm (Fig. 1). The family history was negative for tuberous sclerosis. At the age of 1 he presented febrile seizure. MRI and CT brain scans showed multiple areas of altered signal in the cortical-subcortical region and the largest in the frontal region showed a gross marginal calcification. Abdominal ultrasonography did not show significant alterations. The remaining examination of the skin and other organs was within normal limits except for an about 2 cm horizontal band of lighter hair in the occipital region (Fig. 3). The dermoscopic observation (Fig. 2) showed lighter and thinner hair in addition to normal hair.
The microscopy examination of the hair showed in the affected area thinner and lighter hair without medullary next to normal hair. The final diagnosis was hypotrichotic nevus in a patient with tuberous sclerosis.
Keywords
Hypotrichotic nevus, tuberous sclerosis